Today I am bringing you a super festive recipe in conjunction with Genius gluten-free. You'll know I've been working with them over the past few months- firstly to present a guide for newly diagnosed coeliacs and then to present my very own take on gluten and dairy free chicken kiev
Today, I'm in the Christmas spirit and sharing my favourite thing to eat at this time of year: the ultimate turkey sandwich.
But it's not just any turkey sandwich- oh no! This amazing feat is fairly low in fat, gluten free, dairy free, contains tummy friendly soluble fibre and-as Genius gluten-free bread is also enriched with multi-vitamins like vitamin B- is a great way to get some goodness into your diet when surrounded by mince pies all month!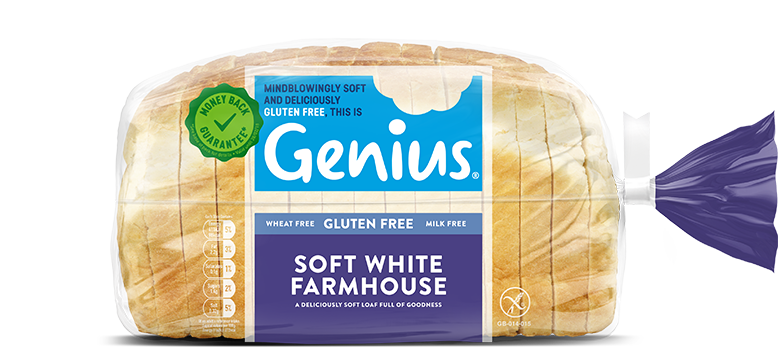 Image Source: Genius Gluten Free
I used Genius gluten-free white farmhouse instead of wholemeal- as it's lower in fibre (not usually a good thing, but many of us with gut issues can struggle with wholemeal, higher fibre varieties of bread). For stuffing, there are two choices: fresh gluten-free stuffing using a dried packet mix. I used a fresh version of Sainsbury's (annoyingly I can't find a link!) and it was amazing-far superior to the packet mixes I'd tried in the past!
So, without further to do- here's the recipe.
The ultimate festive sandwich
Ingredients
-4 slices of Genius gluten free Soft White Farmhouse

-Dairy free spread.

-4 slices of pre-cooked turkey

-1 sweet potato

-A handful of spinach for garnish

-1/4 of a jar of cranberry sauce

I used Tideford organics version

-1/4 of a packet of fresh gluten free stuffing
Instructions
1. Preheat oven to 200 degrees.

2. Peel and thinly slice sweet potatoes and lay flat on baking tray. Drizzle over olive oil.

3. If using fresh stuffing, also place on baking tray.

4.Cook stuffing and sweet potatoes for 30-40 minutes until brown and-for the stuffing-ensure no pink is remaining.

5.Spread dairy free spread on the slices of bread.

6.Divide cooked sweet potato, stuffing, spinach and turkey into 4 equal portions.

7. Evenly layer each slice with the sweet potato, stuffing, spinach and turkey.

8.Drizzle over cranberry sauce.

9.Stack each slice on top of each other and cut into 2 even triangles.
Nutrition Notes
Turkey is a great source of protein and also contains tryptophan-an amino acid which can help with anxiety so there's no reason not to pile your plate!
Sweet potato is a great soothing source of soluble fibre.
If you're sensitive to insoluble fibre, you might want to avoid the spinach.
Genius gluten-free bread is gluten and dairy free-but does contain egg.
Check your cranberry sauces to make sure there are no unnecessary additives. I used Tideford organics which contains cranberries, unrefined cane sugar, lemon juice, cinnamon and cloves.
I hope you enjoyed this very festive recipe-let me know what other festive gluten-free foods you enjoy making over Christmas below!
More amazing festive gluten-free recipes
*As a genius gluten-free ambassador, this is a collaborative recipe with Genius gluten free*