Today, I'm back with another slow cooker recipe which is gluten-free, dairy-free butter chicken that also makes a great low FODMAP slow cooker recipe.
Unlike the dairy-packed regular butter chicken, this super and delicious dish uses coconut milk instead of traditional dairy and can be easily adapted to make it a suitable low fodmap slow cooker dish (just read the nutrition notes to find out how!).
What's more, it takes hardly any time to prep as your slow cooker does all the work!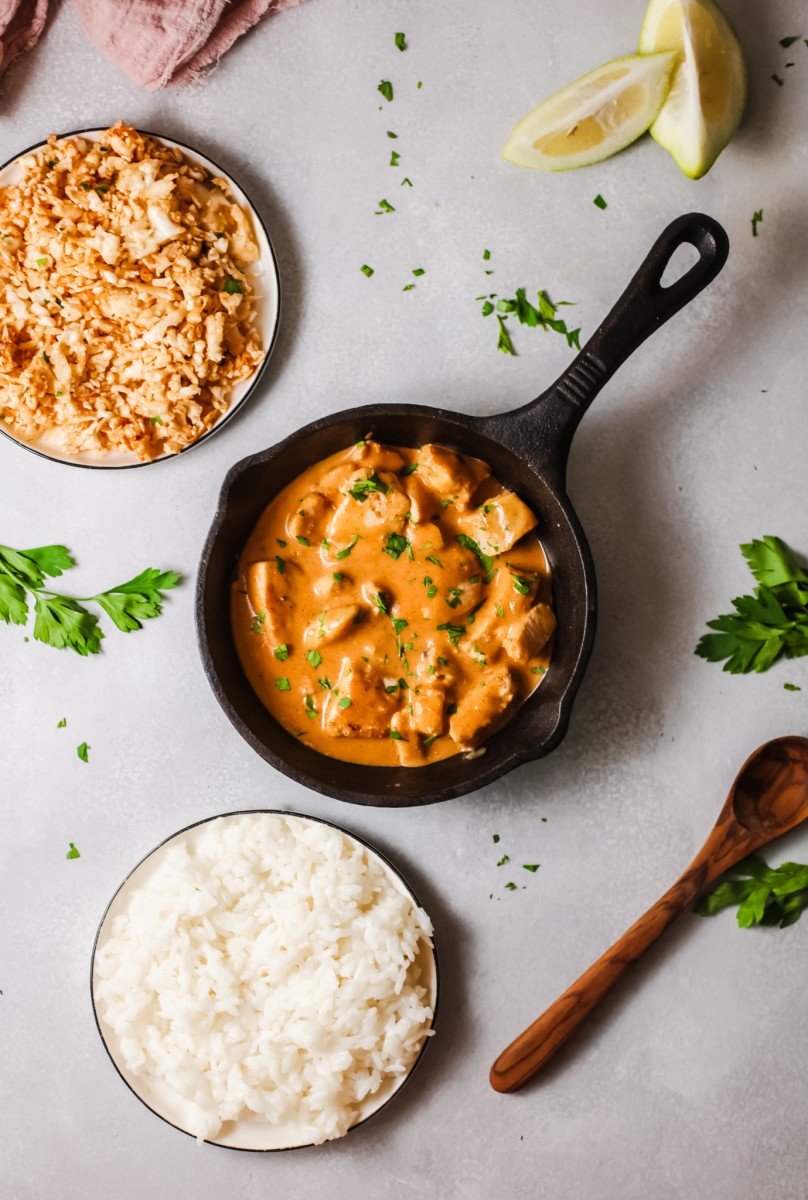 Sidenote but if you love your slow cooker, make sure you also check out my 10 gluten and dairy-free slow cooker dishes!
Once cooked, this butter chicken recipe is delicious and really similar to the original butter chicken.
And, if you're into meal prepping, you'll be pleased to know it can freeze well too and lasts for a couple of days in the refrigerator.
Gluten and Dairy Free Butter Chicken-Some Nutrition Notes
–Curry powder can have a lot of different ingredients and vary a lot from brand to brand but most are gluten and dairy-free. You can buy just a curry mix or use the suggested mix I've included in the recipe.
-There are lots of options for stock. You could use bone broth or just regular stock cubes (Kalloo and Knorr are great for gluten-free stock cubes here in the UK).
-If you're on the low fodmap diet, you can also buy some low fodmap stock cubes here (use BALANCED5 for 5% off)
-I advise using the creamy coconut milk that comes in a can if you want a sauce that's more velvety and thick (like the photo).
This recipe uses 1 cup of coconut milk and should serve 4 people.
– 1/2 cup of coconut milk is fodmap safe (and as this serves four that's plenty) but if you wish, you may wish to use a little less and add safe dairy-free milk for you. This is also a good idea if you struggle to tolerate a lot of fats.
-You can choose to use coconut oil, ghee or garlic-infused oil for the healthy fat portion of this dish.
-Finally, some people with digestion problems might find tinned tomatoes problematic. 92g (or 3/5 of a cup) of tinned tomatoes are low FODMAP friendly. As this recipe serves 4 it is again FODMAP safe but you can easily reduce the tinned tomatoes by half if needed and replace them with extra stock.
Why not make it with my gluten and dairy free turmeric bombay potato?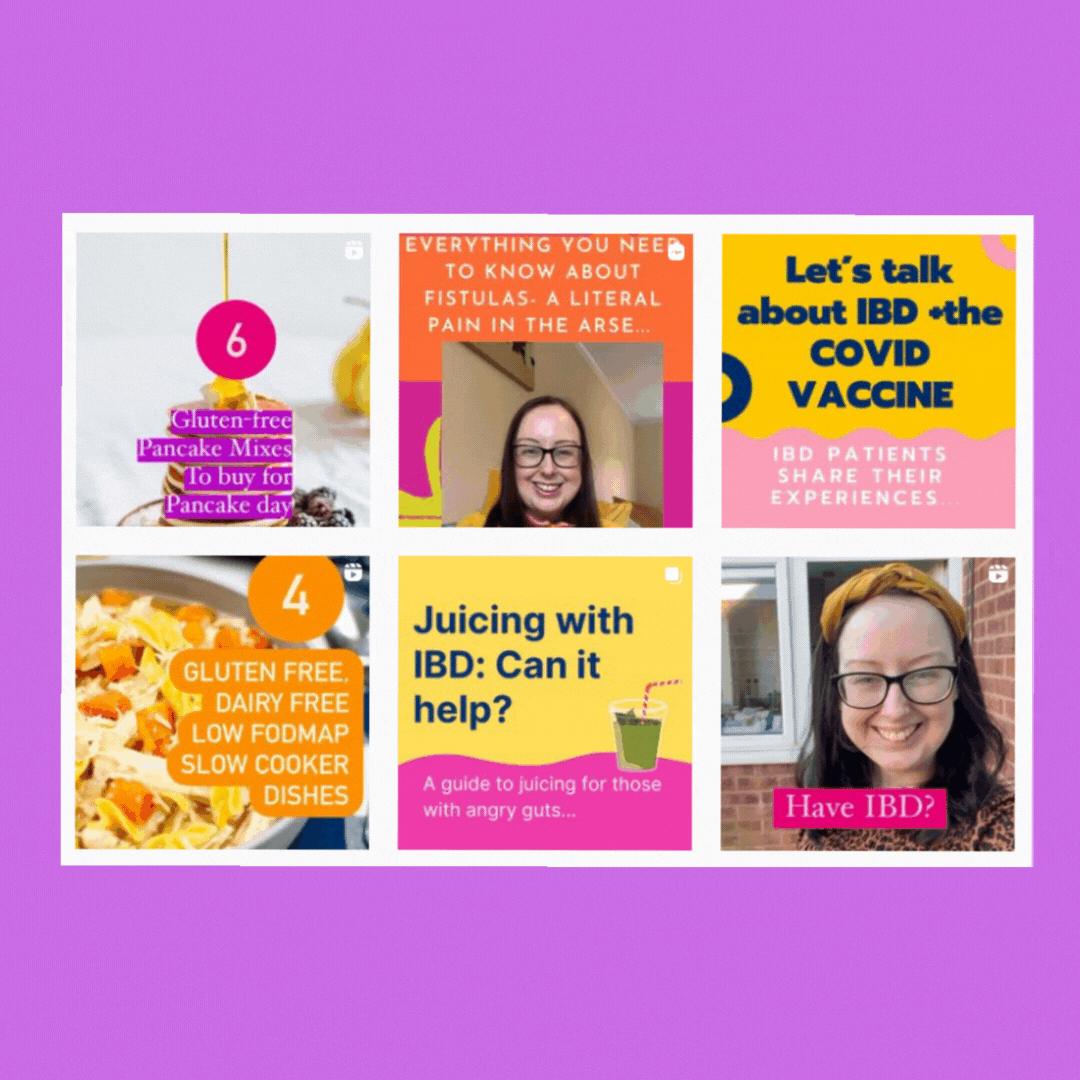 Yield:

4
Gluten and Dairy Free Low FODMAP Butter Chicken
Cook Time:
4 hours
40 minutes
Total Time:
5 hours
10 minutes
This deliciously creamy but super simple gluten and dairy-free butter chicken is so easy to make in the slow cooker and is low FODMAP friendly too.
Ingredients
500g chicken breasts, diced
1 Tbsp coconut oil or ghee, melted.( Garlic infused olive oil it's also a great low fodmap alternative if you want to kick it up a notch)
1/2 Tsp ground ginger
1/2 Tsp ground turmeric
1/2 Tsp ground paprika
1/4 Tsp ground coriander
1/4 Tsp ground mustard
Pinch of cinnamon
Pinch of nutmeg
1 Cup/ around 230mls diced canned tomatoes (See notes above for LOW FODMAP adaptation)
1/2 Cup/ around 115 ml water or stock
1 Cup /around 230mls coconut milk (see notes above for LOW FODMAP adaptation)
Instructions
In a bowl combine chicken, coconut oil and spices

Let it marinate for 20 minutes.
Transfer to a slow cooker.

Add canned tomatoes and water or stock and cook for 4 hours or until the chicken is done.
Mix in coconut milk and cook for 10 more minutes.

Nutrition Information:
Yield:
4
Serving Size:
1
Amount Per Serving:
Calories:

411
Total Fat:

24g
Saturated Fat:

17g
Trans Fat:

0g
Unsaturated Fat:

5g
Cholesterol:

116mg
Sodium:

256mg
Carbohydrates:

7g
Net Carbohydrates:

0g
Fiber:

1g
Sugar:

3g
Sugar Alcohols:

0g
Protein:

42g
Enjoyed this?
Read: 10 gluten free, dairy free slow cooker recipes you need to make!
Pin it