Today I'm back with a new recipe.
Over the last few days, I've been trying to focus on liquid nutrition-in other words: foods that are blended or juiced to give my gut a break.
If you're a member of my weekly newsletter you'll see I've been struggling with my health issues recently .
If you're a new reader, I have Crohn's disease and recently my Crohn's has started to rear its head).
Originally, I was going to try a day or two just juicing but whilst I'm a big fan of juicing (you can read my juicing guides here and here), I was just too hungry to keep it up!
So, I decided to experiment with soup instead and accidentally created this gem of a recipe; that I've been making time and time again ever since.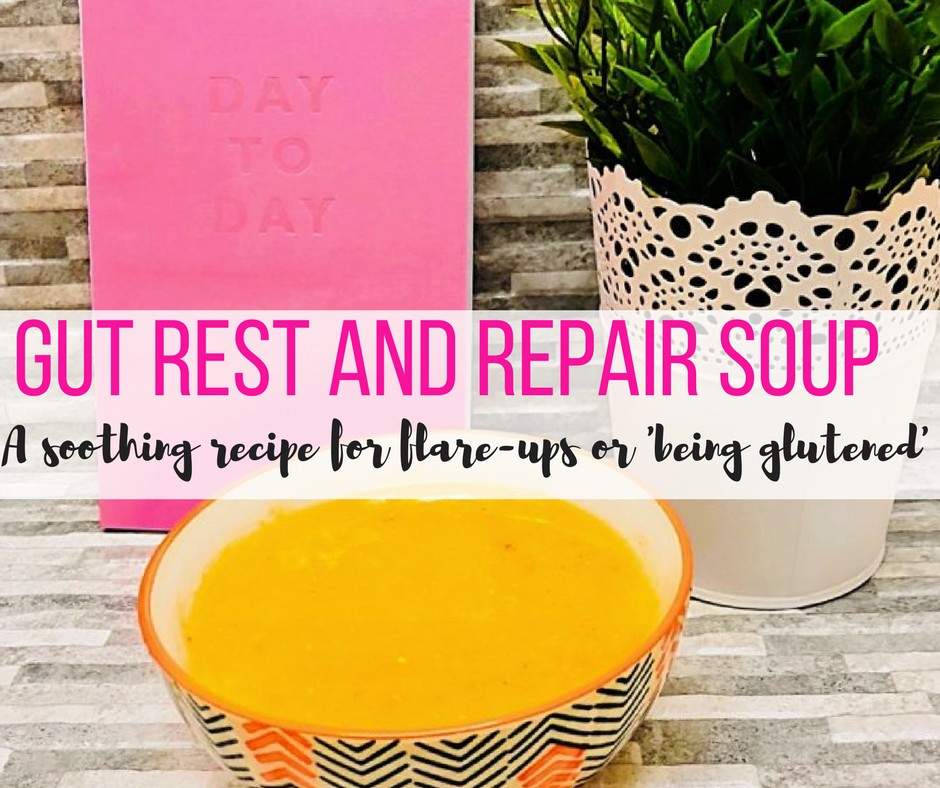 This soup turned out to be what I pretty much lived off over the last few days; and whilst I no longer subscribe to the 'food is medicine' thought (because, you know, I take actually medication for that), it really did make a massive difference.
It's full of goodness, gluten and dairy-free and very easy to digest; giving your gut a chance to rest and recover.
It also contains bone broth (but don't worry, I've got a vegan or low FODMAP swap if you need it); which is thought to help 'repair' the gut lining.
I have been having one or two bowls of the soup a day; along with a juice, plenty of herbal tea (do read my latest blog post about my favourite new flavours ) and then trying a regular dinner but keeping it quite plain.
Whilst I'm not 100% (it's not miracle soup here folks!), I really do feel much much better; so decided to take the time to type this up in the hope it might help others. Since posting, I've been asked a lot of questions so feel free to scroll through the FAQ section.
Do you need a soup maker for this recipe?
I actually made my soup in a soup-maker; using leftover chicken. But I've hopefully explained how to use both methods (as I've made soup in a nutrbullet and blender before too-such as my beetroot soup recipe).
Do you need to use bone broth for this recipe?
–I have used Ossa Bone Broth before but couldn't find it this time so I used Waitrose Chicken Stock (which worked out much cheaper too!).
My understanding is that bone broth is more expensive as it is often organic and contains a higher concentration of chicken bones-but this stock did the job fine.
A few people have asked if you can just use water: you can but it kind of defeats the point of it being soothing for your gut and won't taste as nice.If you are low FODMAP, you could try Coombe Farm who actually do a Low FODMAP suitable bone broth
Do you need milk or dairy-free milk for this recipe?
No, you don't need to use a dairy-free milk but I do find it makes it a little creamier.
What about if I'm avoiding fibre or on the low residue diet?
–Many people avoid vegetables if their gut is flaring, but I've chosen sweet potato and carrot as when peeled and cooked; they contain mostly soluble fibre.
–Soluble fibre isn't the tough, fibrous type-it instead gently helps your colon recover from both constipation and diarrhoea-so it's not a laxative in any way; but the blending will also break down any fibre either way-so it'll be much easy to digest!
Well cooked carrots and sweet potato are allowed on the low residue diet but if in doubt, you could just double up on potato
Bone broth is one of the best things to sip on to help your gut. If you're vegan or vegetarian, Ossa has recently launched a vegan bone broth or you could buy vegetable stock.
Is this recipe suitable if I'm on the low FODMAP diet?
If you're low FODMAP, 1/2 a cup of sweet potatoes is ok (so just add extra potato) and use the recommended bone broth or safe stock for you.
The final soup is silky smooth and easy to digest. I really hope you enjoyed this recipe! It's been an absolute lifesaver over the last few days!
Total Time:
1 hour
30 minutes
A delicious soothing soup-ideal for flare-ups or bad gut days.
Ingredients
2 cooked chicken breasts-leftovers are ideal for this recipe, or if you're vegan, omit and replace with tofu
2 sweet potatoes
2 carrots
2 medium potatoes
750 ml of bone broth or chicken stock
1/2 cup of almond milk, this isn't essential, it just gives a creamier taste
2 teaspoons of turmeric
Sprinkle of black pepper
1 small piece of ginger
Instructions
Preparation
1. Peel and slice carrots, sweet potatoes and potatoes; cutting into small chunks.
2. Ensure cooked chicken is chopped finely.
3. Peel ginger and dice finely
Without a soup-maker
1) In a large saucepan, add the 750ml of bone broth and 1/2 of the almond milk.
2) Add in the cooked chicken slices (if you've forgotten to cook it, roast the breast for 35 minutes in the oven whilst soup is cooking)
3) Stir in all of the peeled and chopped vegetables, ginger and turmeric.
4) Bring mixture to the boil and then cook on simmer for 35-40 minutes.
5) By this time the vegetables should have soften considerably.
6) You can now use a hand blender or even your nutribullet/blender to blend the mixture into a smooth soup.
7) Add other half of the almond milk to the mixture and stir through.
If you are using a soup-maker
1) Cook chicken separately-either using leftovers or roast your breast at 200 degrees for around 35 minutes.
2) Add the vegetables, broth, turmeric, ginger and 1/2 the almond milk to the soup maker and set desired program.
3) Once soup is prepared, add in the chicken and the other half of the almond milk.
Nutrition Information:
Yield:
4
Serving Size:
1 Servings
Amount Per Serving:
Calories:

325
Total Fat:

5g
Saturated Fat:

1g
Trans Fat:

0g
Unsaturated Fat:

3g
Cholesterol:

55mg
Sodium:

561mg
Carbohydrates:

37g
Net Carbohydrates:

0g
Fiber:

5g
Sugar:

8g
Sugar Alcohols:

0g
Protein:

34g