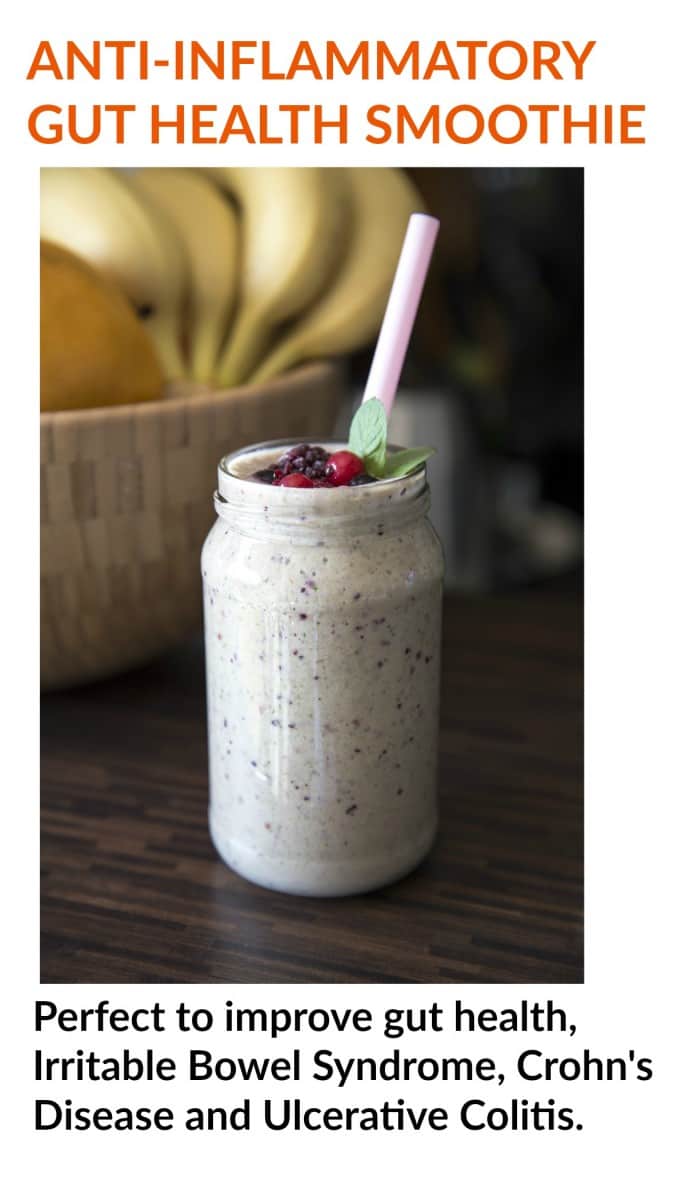 As you know, I blog a lot about juicing but not so much about smoothies! Some smoothies can be difficult to digest if they have a lot of fibre but I'm always being asked about easy to digest smoothie recipes. Therefore I'm excited to share this gut friendly smoothie recipe with you today; it's full of lots of goodness and can be adapted depending on how sensitive you are to fibre. I recently also made a delicious iced smoothie lolly version of these smoothie so make sure you check that recipe out too!
Want more Smoothie Recipes for IBS and IBD?" style="glass" box_color="#eb3086″ title_color="#ffffff"]Checkout my free Juicing/Smoothie Ebook for IBS, IBD and other gut problems- which you can download for free and my NEW book on IBD: Managing IBD- A Balanced Guide to Inflammatory Bowel Disease
How is it anti-inflammatory smoothie?
The key to an anti-inflammatory smoothie is turmeric and ginger, both of which do amazing things for your digestion .
Always add organic turmeric to smoothies and add a pinch of black pepper to maximise absorption.
Turmeric is vital to anti-inflammation and I always recommend trying to supplement turmeric with black pepper in addition to putting it in smoothies. You're looking to find a mix of turmeric and black pepper.
Ginger is another great anti-inflammatory. I always recommend buying it fresh- top tip if peeling; only peel very thinly as most of the goodness is located in the top layer.
How else can it help my health?
The chia seeds are great for getting a dose of gently absorbing soluble fibre. It's best to buy chia seeds in bulk to save money.
Banana also has soluble fibre which is much gentler on the stomach. Remember this type of fibre is quite easy to digest (instead of the insoluble fibre found in veggies etc)
Hemp Protein is a great source of non-dairy protein and omega 3 too.
Almond Milk provides calcium.
Cashew Nut Butter is a good way to increase your intake of nuts and fats.
I use a Nutribullet to whizz mine but you can get plenty of other smoothie makers too.