WOW, is that time already? I'm typing this with a cup of fennel tea watching Frozen before I get ready to go out for a meal and a few drinks. I read Jo's year in reflection post (a fab IBS blogger) and loved it so much that I wanted to do one of my own! So, I'm going to start this now with my cuppa but it might not get finished until tomorrow. I've decided to divide my reflection into seasons- ala Gilmore Girls (sidenote- that show was literally the highlight of my December) but more because I can't remember what I did and what I posted every single month!
Winter (Jan 2016-end of Feb 2016)
I must admit that on the 31st December 2015, I was pretty depressed as it was only a few weeks after my fistulotomy operation. My mum and dad were abroad and I wasn't up for going out so I stopped in with my hubbie. I decided that I would use the time proactively since a celebration was off the menu and I'd start my 2017 plan a little earlier- so I finally plucked up the courage to send my book proposal off to a health publisher. Now at this point, I only had a brief outline of what I wanted to do; no chapters or anything- but I figured that it was now or never, so I sent it over and hoped that they'd have a peek at my blog too- well what do you know; as I type this I have a digital copy of what the book looks like and it should be going to print on Wednesday! Ironically, on the 1st Jan 2016 I wrote in my Welcome 2016 post: 'My eventual dream is to turn my blog into a book about Crohn's disease but I'm not sure that's possible in 2016.' Well what do you know! It was.
To be honest, it still hasn't sunk in that I have written an actual book- I guess it will when I'm holding it in my hand! I keep saying to people that it's no big deal but since it is a year of reflection, I am going to take a quick second to pat myself on my back and say: I WROTE A BLOODY BOOK! I also wrote my first post for Huffington Post on the 31st too; a post on body confidence with a chronic illness which I'm really proud of.
The rest of this season was spent frantically looking at my blog content and seeing which bits might work in a book format. I also upped the pace of my Nutritional Therapy qualification as I planned to have both finished my the end of the year. At the end of Feb, I attended the amazing Blognix organised by Rosallium. The highlight for me was Monica Stott's talk and I really felt like I was beginning to understand how to take my blog forward.
Spring
In spring, I started to do more and more restaurant reviews with my blog- I really enjoyed doing these and one of my favourite posts of the year was my gluten and dairy free London guide. This post gets hits almost every day so I know lots of people are looking for the info but I also got to meet some lovely, lovely restaurant owners and chat about all things gluten free. It was great to find such a great free-from community!
I also met the lovely Kay from IBD Passport.
Kay is so so lovely and a complete inspiration. Like seriously; she has to be the busiest person I've ever met in my life and she still looks completely flawless and leads a super healthy lifestyle. Kay agreed to help me with my book, which is amazing as I always wanted someone in the medical community to be involved, as it's so important to me that all the information is accurate.
At this point, I started to consider going part-time in teaching because I really wanted to spend more time on my blog- it seemed to be growing and finding it's feet. By May, I had found a job teaching 3 days a week and planned to spend the rest of the time writing.
Summer
This was our first proper summer back in the UK- we moved back to England from China last April but the summer of 2015 was a complete washout as I was really poorly. A big chunk of the first part of my summer was finishing my book: I had a deadline of the 31st July for 35,000 words! I managed to make my deadline! Then we did a little exploration of England- reviewing along the way. We reviewed the beautiful Ox Pasture hotel (pictured above) and the super chic Roseberry Hotel in Jesmond. It is really important to try and share information on the web about travelling with food allergies or a chronic condition- I absolutely love to travel and while my treking around Asia days may be behind me, I still think it's so important to get out and see the world! Why should having IBD stop me?
At the end of the summer, I attended The Blogger's Festival and met up with Sam Jones again from the Gut Health Empire. I'd really recommedn checking out her blog; especially if you're thinking of doing the FODMAP diet. Sam is the most motivational person I've ever met- everytime I meet her I always leave thinking 'I'm going to do youtube/facebook live/take over the world- until I realise I have none of the actual energy and charm that she has!
Autumn and Xmas
I finally started my new job and I also started blogging about my attempts at running a little blog biz (here's month 1, month 2 and month 3) . I have absolutely loved having more time to dedicate to my blog and I seem to be getting consistent work. I also started to branch out slightly doing bits like copywriting and PR articles for brands- something I really want to do more of in 2017. Unfortunately, a few month's later, I also quit said job! It was just causing me lots of stress and I was really unhappy there- I decided to do supply which at least means I can be super flexible around my writing.
My favourite picture of 2016 was definitely this one of our trip to Hawkchurch Spa in Devon. I think this was one of the best blog trip we've ever been on and was so incredibly relaxing and accomodating for my diet. My resolution for 2017 is just to get outside with my dogs more- I am always so incredibly chilled when I'm by the sea or in a field walking with my two bears.
And that brings us up to now! Wow, a 1000 words down- good job I didn't do each month!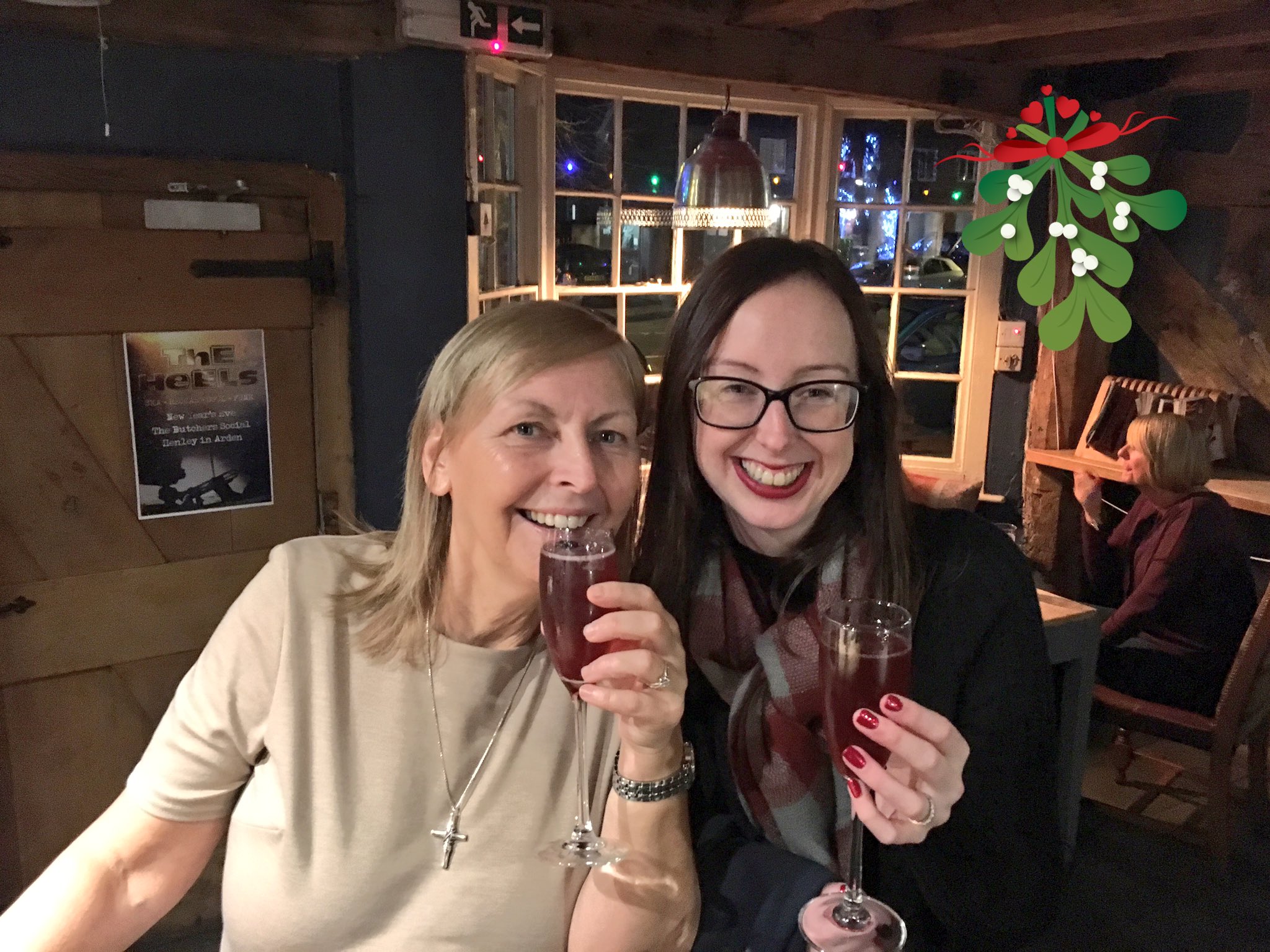 I have had the best few weeks for Christmas. It was the first one I had spent with my parents (above is me and my mom) in ages and I felt really well. I did indulge in a few proseccos and some snacks- but I kept up by good habits along the way- making sure I had some bone broth for the days leading up to it and my symptoms were pretty non-existent; apart from a few blips which I quickly bounced back from. I realise how lucky I am to have such a lovely family and having IBD has given me a sense of perspective in that they really the only thing you can ever truly rely on. I am so excited for where 2017 will lead and can't wait to have you all following along for the journey.
Jenna xxxx