Winter is finally here and I am back to living on soups! Hoorah! Soup is one of my favourite things to batch cook-since a pot can last several days and it's a great way to get vegetables when they're blended (and easier to digest). So today, I thought I'd share my favourite soup recipes to make this winter. And you're in luck, they're all gluten and dairy free too! Enjoy…
1. Gut Rest and Repair Soup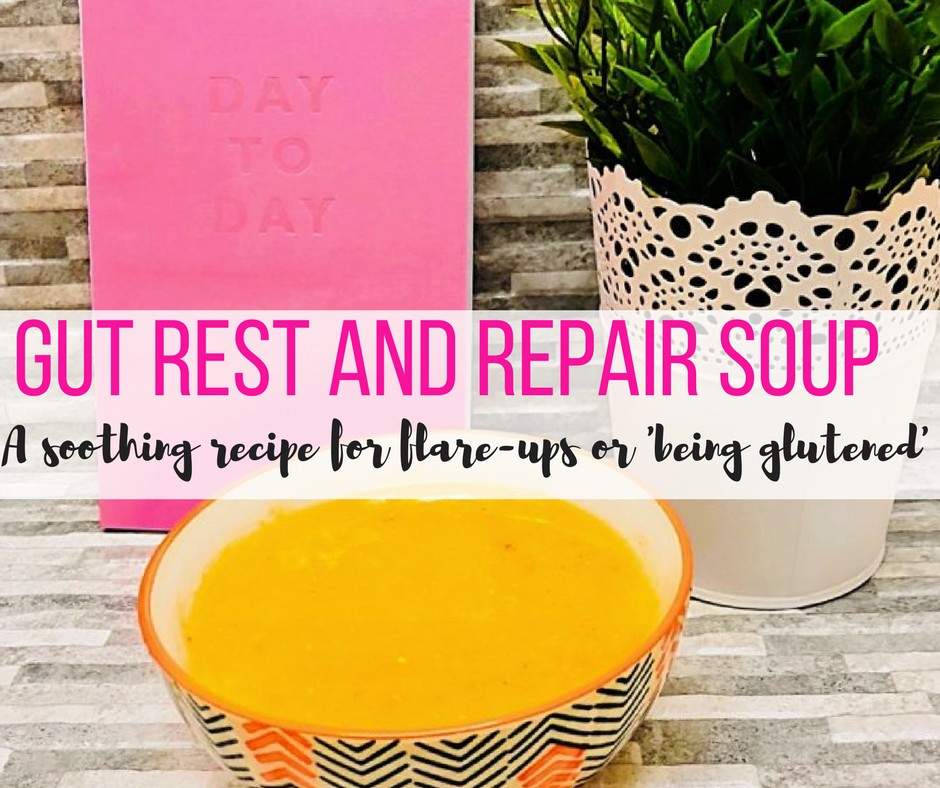 This is one of my most popular soup recipes ever on the blog. It came about after struggling to find something to have when I knew my gut needed a rest. It's full of tummy-friendly ingredients (bone broth, turmeric, ginger) and contains chicken, sweet potato, carrot and almond milk. It's creamy, nourishing and delicious! It can also be made low residue and low FODMAP.
2. Immune-Boosting Beetroot Soup

Beetroot is incredibly good for you especially if you suffer from low iron. I used to make this when I was worried about my immune system when I was first on my IBD medication-it mixes beetroot with celery, garlic, bouillon, sweet potato, garlic and coconut cream! Yum.
3. Carrot and Ginger Cold-Fighting Soup
My most recent guest recipe on the blog is the roasted, apple, carrot and ginger soup-by nutritionist Geeta Sidhu-Rob. It's the perfect mix for those looking to ward off colds and dose up on vitamin C.
4. Gluten-Free Cream of Chicken Soup
I can't take credit for this one! It's a creation of the lovely Becky from Gluten Free Cuppa Tea. My favourite thing ever used to be tinned cream of chicken soup so I CANNOT wait to give this one a go!
5. Super simple squash soup
This one doesn't really warrant a whole blog post but as I made it yesterday, I thought I'd give it a mention. I was about to make the gut rest and repair soup but I wanted something really simple. So I simple mixed 700ml of chicken stock, 1 chopped butternut squash, 1 potato and a splash of almond milk. Sometimes simple really is best!
I hope you enjoyed these five soup recipes, if you're looking for more winter recipes why not try my Sweet Potato and Turkey Slow Cooker or sweet potato and turkey slow cooker stew
Pin It