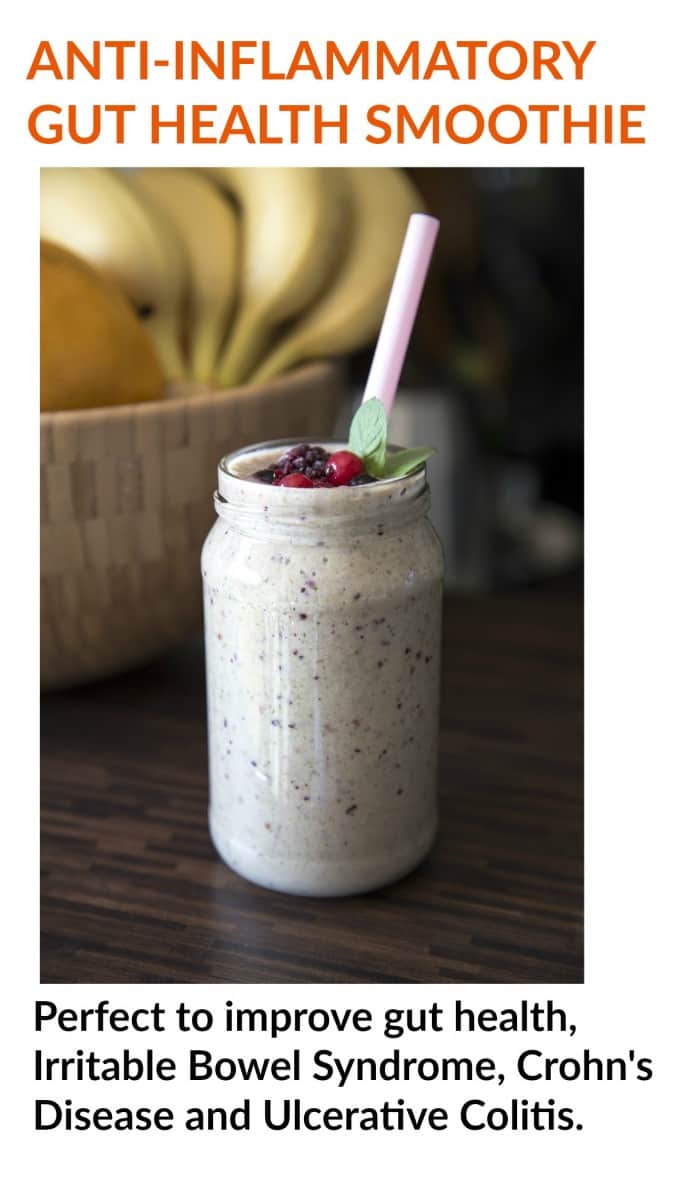 As you know, I blog a lot about juicing but not so much about smoothies! Some smoothies can be difficult to digest if they have a lot of fibre but I'm always being asked about easy to digest smoothie recipes. Therefore I'm excited to share this gut friendly smoothie recipe with you today; it's full of lots of goodness and can be adapted depending on how sensitive you are to fibre. I recently also made a delicious iced smoothie lolly version of these smoothie so make sure you check that recipe out too!
This recipe focuses lots of turmeric and ginger as both have powerful anti-inflammatory action. These do amazing things for your digestion and I'd always recommend supplementing these turmeric as well adding to smoothies (it's way easier than constantly being covered in yellow stains like I appear to be) I've added a sprinkle of black pepper to the turmeric in this recipe as this helps to improve absorption and action of turmeric massively (therefore again, always pick a supplement of turmeric+bioperine like this one if you're from the US or this one if you're from the UK Before, I show you the recipe, lets go over why some of the ingredients are so great for your gut health.
Why is this a gut friendly smoothie?
Turmeric, Ginger and Chia seeds all have anti-inflammatory properties which can really help digestion. It's best to buy chia seeds in bulk like these .
Banana has soluble fibre which is much gentler on the stomach. Adding oats also adds additional soluble fibre- Remember this type of fibre is quite easy to digest (instead of the insoluble fibre found in veggies etc)
Hemp Protein is a great source of non-dairy protein and omega 3 too. Pulsin is my favourite brand. (US readers can get it here)
Almond Milk provides calcium.
Cashew Nut Butter is a good way to increase your intake of nuts and fats.
I use a Nutribullet to whizz mine (Currently on offer UK/US) but you can get plenty of other smoothie makers too.
What You'll Need
1 banana
1 tablespoon of cashew nut butter
1 tablespoon of ground turmeric and sprinkle of black pepper
2 thumb size pieces of ginger, chopped finely and peeled
I added these extra ingredients but these are optional depending on how you tolerate them. Although the seeds might like really tough, once they're blended in the smoothie, you should do just fine (especially with Chai since it's mainly soluble fibre. If you are cautious, then please try them one at a time.
1 teaspoon of Chia seeds (my super cute mini-sachets are from Natural Blender Box-more about them below)
1 teaspoon of Hemp Powder (also from Natural Blender Box)
1/4 cup of gluten-free Muesli or oats (I used Delicious Alchemy's Gluten Free Muesli)
1 cup of Almond Milk (I use Alpro Unsweetened because it's one of the few that are carrageenan free- but Rude Health is also a good shout)
How To Make It
Whizz all together in the Nutribullet for 30 seconds and voila….the perfect breakfast smoothie.
http://www.abalancedbelly.co.uk/recipe-gut-friendly-smoothie/
I hope you liked my recipe. If you have any questions about smoothies for crohn's or other digestive issues- feel free to ask me! You might also be interested in my free Juicing/Smoothie Ebook for IBD which you can download for free. page!