This was originally published last year but has been re-edited due to the comments made over in the weekend in the daily mail on Sam's Instagram
In March of 2016, the IBD community was outraged when Sam Faiers, ex-Towie star and Crohn's sufferer, declared that her boyfriend Paul had effectively 'cured her illness '. Sam, who had just given birth at the time, said it was his detailed research into 'natural medication' that meant she was 'cured'
Outraged, sufferers were quick to correct the former TOWIE star, since IBD (click here to read all my IBD posts), like many diseases that involve the immune system, chronic and, as a result, incurable. Thus, even those who haven't had problems for decades are reluctant to use the 'c' word. Not only that but many felt talk of such natural medication also diminished the very real and very strong medications that the majority of sufferers take each day: a cocktail of immunosuppressants, antibiotics, steroids, and anti-inflammatories.
At the time my response was sympathetic- and I asked on social media: Is Sam really to blame? After all, I argued, she had no choice but to become an unofficial spokesperson for the disease when she diagnosed very publicly during a stint on Celebrity Big Brother several years ago. This, in turn, thrust Crohn's disease into the media spotlight and while this did sufferers a great deal of good in terms of awareness, it also came with a double edge sword. While Sam did great things in promoting the disease she subsequently became an accidental authority whose opinion is still readily published. At the time, I questioned whether she was simply trying to help others and it was the media that was trying to give her opinion as gospel.
However, jumping back to the present, it seems that this was not a one-off or mistake and it seems no lessons have been learnt. After the Crohn's and Colitis UK walk this weekend, Sam posted about her Crohn's and how she no longer takes medication and instead…
Juices
Takes Kefir
Takes US Youngevity supplements as 'we need at least 90 nutrients to survive'
Recommends an American doctor called Dr. Wallach
Now, you might think this might be a positive thing (and indeed, it is fantastic to see Sam doing so well). As you know, I am a massive fan of juicing (I share lots of tips on juicing here) and eating well with Crohn's disease. I am prone to sharing pictures of sauerkraut, juice, and smoothies over on my Instagram page. However, at a cursory glance of the internet, I discovered.
Youngevity is a MLM company who sell expensive vitamins and minerals.

These don't appear to be dangerous but, as someone receives info on supplements each day, I cannot see anything in them that you cannot get elsewhere. In particular, the digestive pack she recommends contains probiotics and digestive enzymes- which are widely avaliable in the UK. More info on why this company is problematic was found here.
The founder Doctor Wallach, is not actually a doctor but a vet who is qualified as a Naturopath. Dr Wallace believes ANY disease is because of lack of minerals and there are mentions of patients dying from his advice. More on this delightful chap here.

We do need a lot of nutrients to surviv

e- but these are all found in a balanced diet. One of the nutrients recommended is oxygen. Yes, you know, the thing we breathe in every day. The other was amino acids. If you are eating meat, you will get all essential amino acids from meat. If not, as long as you're eating things like rice, beans and lentils then you'll get them too.
Now as you can see, this is extremely dangerous advice- and crosses the line between sharing what helps (which I hope you will all think I do) and pushing misleading and inaccurate information. However, while one might argue that Sam can share what she likes; much of this advice was then shared in a Daily Mail article in which she was praised as 'a vision of health' and widely distributed by CCUK.
And therein lies the difference. The difference between Sam and people like myself, who like to chat with others and document their life with IBD. The thing is: Sam isn't just one individual When it comes to celebrities; so many badly want their experiences to become our own. The comments below the Instagram post is full of people saying they will try the supplements and check them out. When it comes to celebs, people trust them on everything: from what clothes to wear (a celebrity sighting practically guarantees a brand's products to sell out) to what foods to eat (If Beyonce tells us to eat cayenne pepper we eat cayenne pepper) and even to put on our faces (blood facials anybody?)
Or what about a quick IV shot. Just because?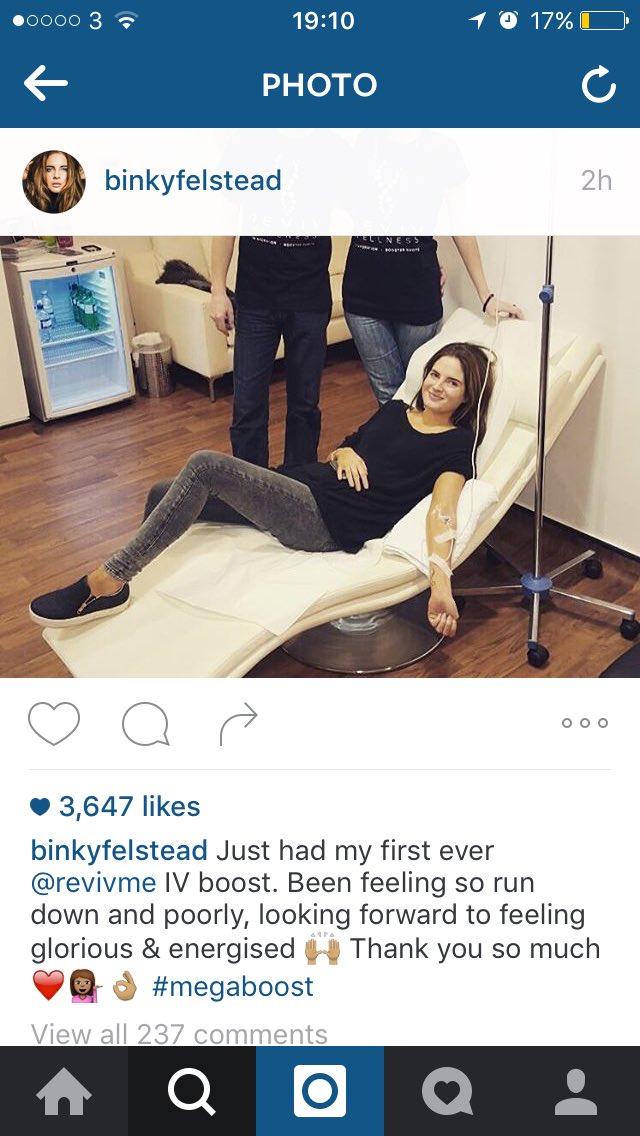 Thanks to the lovely Josie@ www.sickchickchic.com for the screenshot. It seems to have disappeared from Binky's Instagram after the uproar.
So, time for some home truths: we have to stop turning to celebrities for advice on our health. Just because you've seen somebody on the television, does not mean they are a fountain of knowledge. It's interesting because I regularly share nutrition advice- yet am sometimes criticised as people assume I am selling something or pushing fads. I have studied for four years and have written a book, yet people have no problem telling me, 'I'll listen to my doctor, thanks' or 'everyone knows people with IBD can't eat vegetables- this is misleading'.
Yet, there were very few individuals questioning or challenging Sam Faiers this afternoon. And I am not asking you to send snarky comments or abuse. That's not my style. But after seeing lots of fawning, I felt I had no choice but to very politely tweet Sam and CCUK explaining the information about Dr Wallach was incorrect and it was their responsibility to provide accurate information? I also left several messages on Instagram pages.
Their response? Nothing.
In fairness to Sam (and as I've mentioned, this is not a personal attach against her) she has edited her original post to include a disclaimer that everybody is different (but has not addressed this further) but worryingly, has not edited the reference to Dr Wallach and still states' it won't harm you so worth a try.' However, as somebody who provides nutrition advice to IBD patients (and has spent years training to do so) I can tell you that's not true. I always advise everyone to take one supplement at a time and ALWAYS introduce probiotics at 1/2 a dose and slowly increase? Why? Because altering the gut flora too rapidly can cause aggressive die off symptoms and make things worse initially. Your body can also not digest too many new supplements if in a flare and the focus is always to give the gut a rest BEFORE you introduce supplements.
I wouldn't expect her to know that, but I do expect everyone to make sure they find out and do their own research before recommending products from those who are unqualified.
So, although it is 9.40 on a Sunday and I should be getting ready for bed- I feel I have no choice to write this article. It is not intended to criticize or make people feel like they can't share. But if you have a voice, you need to use it wisely and CCUK has a responsibility to only share voices that represent them and their mission; regardless of their celebrity status.
There are many of us out there who have developed a voice and following about IBD. Myself, Stoma in A Tea Cup, Chronological Order, Young Crohn's So Bad Ass and Belly Full of Bryony to name but a few. We might not claim to have all the answers, but we have all mastered the balance of sharing our experiences rather than presenting them as fact. If you are reading this, please get talking rather than following. Ask your doctor. your IBD nurse. your dieitican. Ask questions in the Facebook communities we have. Encourage CCUK to only share responsible content. Because when it comes to awareness, we're no further down the line when I first wrote this in 2016. It's not for enough for celebrities to just show their face anymore. It's not enough to use the word 'awareness' to justify for people talking out of turn. After all, I'd argue that media coverage that downplays a disease and suggests its cure instantaneous is no better for us than no media coverage at all.
I'd love to read your opinions on the topic. You can tweet me @abalancedbelly or pop a comment below.
Want more info?
Email me: jfarmer@abalancedbelly.co.uk……………………………………………………..
Advice on diet and nutrition click
here
…………………………………………………….
Facebook group:
Healthy Living with IBD
………………………………………………
Subscribe to my blog and get your free food diary
here
…………………………………..
Info on my book stockists
here