Freezer foods are pretty much my life right now. Although I'd love to be a meal prep goddess, I am really busy at the moment and I'm relying so much on easy to cook, gluten free vegan foods. I am always on the hunt for new products so wanted to share some gems I've found with you. They're all dairy free, gluten free and vegan.
Strong roots Sweet Potato Fries
If you haven't tried these, you need to immediately! It's rare to find a sweet potato fry that isn't coated in gluten and these are also much lower fat than anything else I've seen on the market. Strong Roots is a new plant-based freezer brand and are stocked in Waitrose. I am absolutely in love with these fries. They also do the most unbelievable garlic sweet potatoes (see number two!)
2. Strong Roots Garlic Sweet Potatoes
Another Strong Roots product but I love these! They are the perfect side dish, low in fat and taste delicious!
3. Miiro Ice Lolly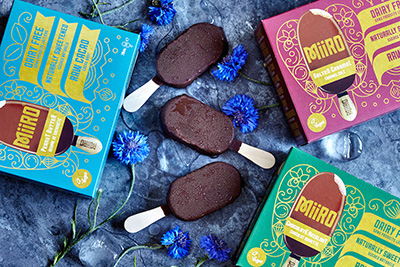 Miiro is the new vegan magnum and they're packed with healthy ingredients too. They're made with cacao, Himalayan salt, and even vegan pea protein powder. Find them at Ocado.
4. Packd Smoothie
Packd is a new frozen smoothie brand which makes it so much easier when reaching for your Nutribullet each morning. They are great for vegans as they contain added superfood powders- flax, in particular, is great for getting your omega 3 hit.
5. Tesco Frozen Avocados*
Hurrah, frozen avocado halves! Tesco has solved the dilemma we all have of buying avocados and then either getting impatient when they're not ripe or leaving it too long and descending into brown sludge.
6.Asda Free From Spicy Bean Bake
These bean bakes are labelled gluten free and veggie, but looking at the ingredients- they look to be vegan too.
7. Goodlife 3 Bean Chill
I am a massive fan of Goodlife (checkout my quick and easy vegan meals and my plant based picnic post) So, I am excited to hear about this new ready meal available at Morrison's. Goodlife use veggies rather than meat replacement and they're ingredient list is incredibly natural.
8. Fria Gluten Free Cinamon Buns
These gluten free, vegan cinnamon buns are super easy for breakfast- they're quick to cook in the microwave and contain no milk, gluten or eggs. You can buy them from Ocado.
9. Tesco Toffee and Vanilla Cones*
Tesco's gluten free and vegan ice cream cones are amazing (for more tips on vegan ice cream, read my Metro article here) These cones taste exactly like cornettos!
10 White Rabbit Pizza Co
Comes refrigerated but easy to pop in the freezer. It's now available in selected Sainsbury's (info here) and abel and cole.
Disclaimer *Tesco provided me with a gift voucher to purchase some frozen food items. Some of the above items were samples but were given with no obligation to post about them.