Gluten-free breakfasts can be one of the hardest things to keep varied. Sure, there are cereals on the market-but they contain hardly any protein and lots and lots of sugar (and are usually just a combination of corn and flavorings-offering very little nutrients)
I've spoken before about the importance of trying to have protein at the start of your day. You might think it's just for gym goers- but having protein (especially in the morning) helps keep your sugar levels stable for the rest of the day; as well of course helping with things like giving us energy, helping with stress and repairing the gut.
With that in mind, I wanted to offer you five quick breakfast ideas today- all of which are gluten-free but are much healthier than the usual choices on the market. They're also all vegan, dairy-free and contain plenty of protein.
1. Avocado and Potato Hash
One of my favourite things to make of a weekend (or order at brunch) is avocado and potato hash on toast. I'll part cook potatoes or sweet potatoes in the microwave, and then fry in cubes until golden. Avocado itself contains protein and good omega fats-but you can also try scrambling silken tofu with your potatoes for an extra vegan protein hit. Tofu can be a bit tasteless but frying in turmeric and coconut oil for a minute or two (any longer and it disintegrates so be careful) can be a great way of adding flavour!
2. Turmeric Protein Smoothie
I make this Turmeric Protein Smoothie at least once a week. It usually pea protein again but also turmeric, ginger, nut butter and seeds (both of which add extra protein and should be easy to digest when well blended). It's delicious, full of good fats and should keep you full until lunch!
3.Nutribrek with strawberries and sticky toffee pudding vegan protein
Disclaimer: I was sent Nutreelife to try and paid to create this specific recipe.
Nutri-brex is my go to gluten-free cereal since it's way lower in sugar than any others I've tried (1 teaspoon I believe). It's also made of sorghum- which is a natural, soluble-fibre rich ingredient. I've topped my usual bowl with Strawberries and Nutreelife's sticky toffee vegan protein snack bites. These are perfect if you want an extra protein hit-since they use pea protein (my preferred choice of vegan protein) and peanuts. They're also gluten-free, dairy-free and vegan! If you've never used pea protein- I would 100% recommend it (I also use it in my smoothie recipe above-it doesn't really taste of anything and is great for those who can't tolerate nut proteins or soy protein powders.
4.Fig Chia Pudding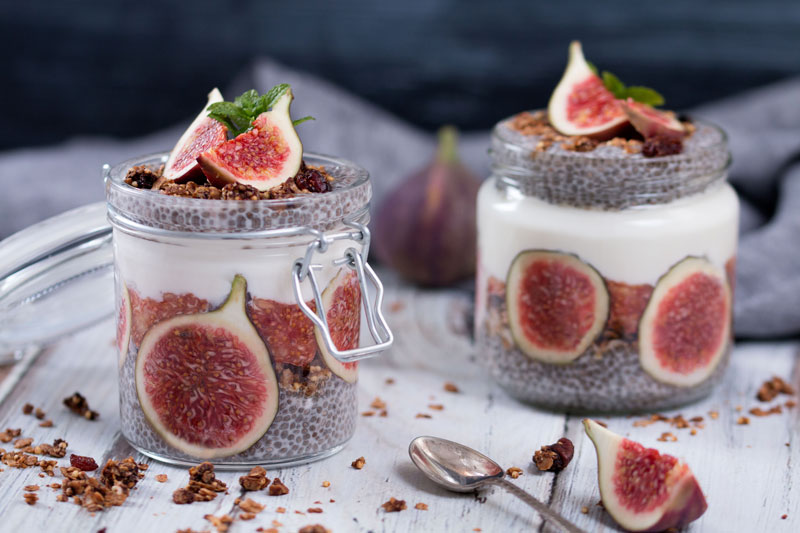 Image credit:The Healthy Tart
I'm sharing this one from one of my favourite bloggers. This fig chia pudding by The Healthy Tart used chia seeds (which are great for digestion-they swell with water so they're very gentle on the gut-omegas and a fantastic vegan source of protein). It's really delicious and works well for both breakfast and desert.
5.Broccoli Waffles
This final recipe comes from Face Paint and Favour. Many gluten-free waffle recipes contains eggs; but these beauties contain broccoli florets instead. You wouldn't think it but broccoli does actually contain protein!
These are my five favourite gluten-free, vegan recipe ideas that all pack a protein punch. Do let me know your favourite!