With Easter just around the corner, today I thought I'd share with you some of the most amazing, gluten-free Easter cake recipes! As you know, I create a lot of gluten-free recipes. but my baking skills are not quite up to scratch yet if I'm honest! So I thought I'd share some of my favourite cakes from fellow bloggers instead! All of the gluten-free easter cakes are gluten-free(obviously!) but I've also labelled which ones are dairy-free and egg free too. Enjoy- and happy Easter.
1.Easter 'Creme Egg' Mousse Cake from glutenfreealchemist.com
This cake looks so incredibly decadent but it's completely gluten-free. If you're looking for an indulgently rich cake to make this easter, then this one is for you!
2. Orange, Pistachio And Honey Polenta Cake from easypeasyfoodie.com ( also DAIRY FREE, REFINED SUGAR-FREE)
This light and tangy polenta cake is perfect for spring occasions – and it is made without refined sugar.
3. Heavenly Hot Cross Bun Pudding Cake from Glutarama (also DAIRY FREE, EGG FREE)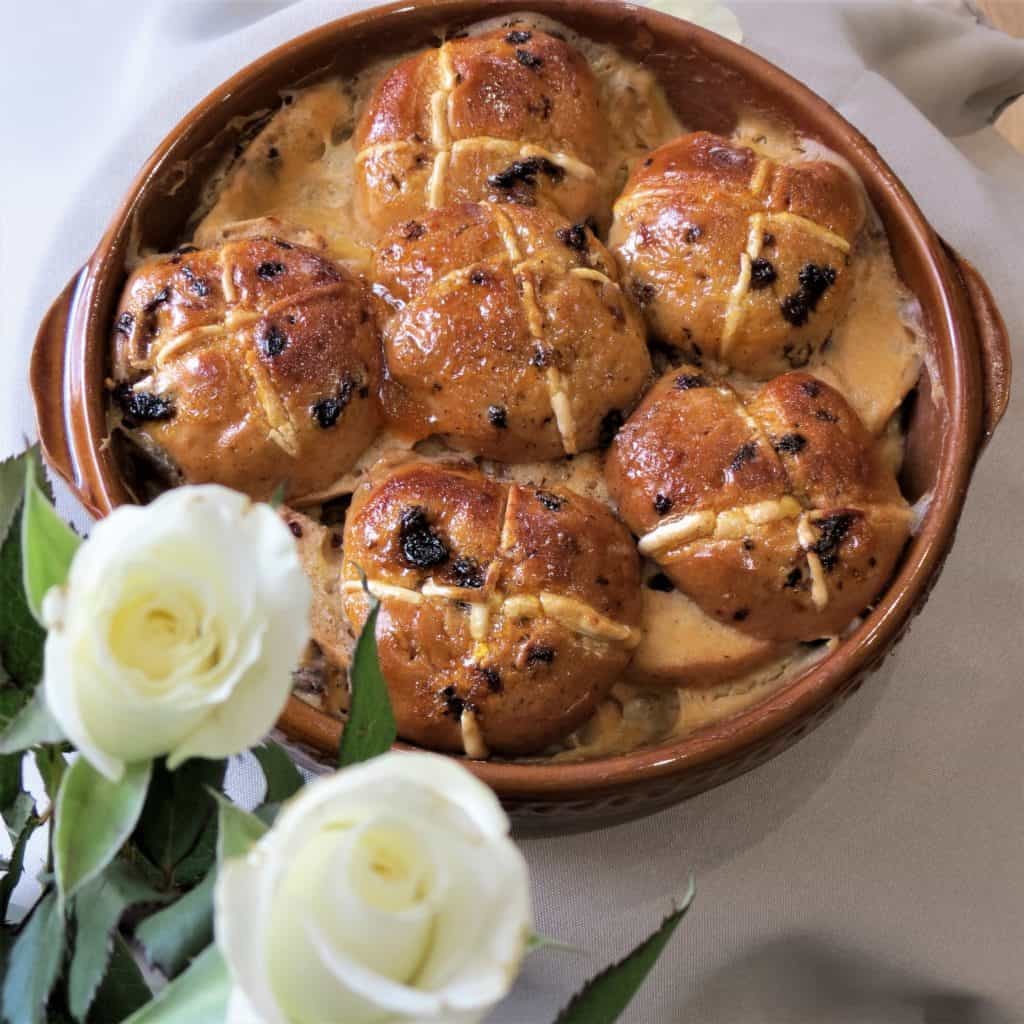 How genius is this! If you can't stop at one hot-cross pudding, then this cake is the perfect thing to make this easter.
4. Gluten Free Raspberry Almond Breakfast Cake from ahealthylifeforme.com (also PALEO FREE, DAIRY FREE, SUGAR FREE)
Certainly one to tantalise the taste buds, this dense cake is perfect as a dessert or a light snack during the day.
5.Gluten Free Carrot Cake from downshiftology.com
If you're feeling unprepared and uncertain of which cake to make this Easter, this simple, yet deliciously rustic cake is bound to hit the spot.
6. Paleo Easter Lamb Cake from acleanbake.com (DAIRY-FREE, PALEO FRIENDLY)
A delightfully sweet, yet stunning creation. This light and fluffy masterpiece is bound to bring a dozen smiles to any special occasion.
7. Lemon Chocolate Easter Cake from nirvanacakery.com (also VEGAN)
It's not a combination you'd assume would work well, but this generous portion of lemon and chocolate will help put a spring in your step.
8.Gluten Free Coconut Cake With Cream Cheese Frosting from thereciperebel.com
A recipe with a flour substitute, this delightfully tempting cake is colourful piece of art. Not one to be missed!
9.Gluten Free Lemon Blueberry Cake from seasonalcravings.com
Packed full of moist fruits accompanied by a light and airy texture, we're very shocked this is a gluten-free recipe.
10. Gluten Free Tangerine Cake from theviewfromgreatisland.com
Another flourless recipe which is all the craze, this bitter sweet citrus cake is packed full of delicate flavours.
11. Gluten Free Carrot Cake Vegan Cheesecake from foodfaithfitness.com (also EGG & REFINED SUGAR FREE)
This one should come with a warning label. Deemed as one of the most creamiest and 'velvety smooth' cake recipes, it's guaranteed to be eaten within hours of baking, so prepare yourself!
12. Low Carb Raspberry Chocolate Cake from primaverakitchen.com (also SUGAR FREE, DAIRY FREE)
When we think of 'low carb' recipes, we tend to think of flavourless creations. Don't be fooled as this gooey, chocolate delight is perfect to satisfy those sugar cravings.
13.Almond Flour Cake With Lemon from wellplated.com
Ideal for a show-stopping Spring spectacular, this lemon infused bake is a great substitute for those lemon pie fanatics.
14.Dark Chocolate Beetroot Cake With Chocolate Ganache Frosting from quitegoodfood.co.nz ( also DAIRY FREE, VEGAN)
A cake with a twist, you'd have no idea it was vegan, gluten free and allergy-friendly. Tuck in, it is Easter after all…
15. Gluten Free Sponge Cake from glutenfreeonashoestring.co
A favourite for hardcore cake-lovers, this one is best served with fresh fruits and a dollop of cream or ice cream.
16. Paleo Chocolate Cheesecake from texanerin.com (VEGAN FRIENDLY)
Super rich qualities good for those vegan cheesecake cravings, it's deemed as a perfect cake for portion control.
17. Deliciously Free From Easter Simmel Slices by Glutarama (can be made DAIRY FREE, EGG FREE)
Leave your food intake regrets at the door whilst baking these stunning slices. Packed with lumps of cake and marzipan, it'll be hard to resist something so sweet.
18. Hot Cross Bun Chocolate Rolls by Free From Fairy 9 (also EGG-FREE, CAN BE DAIRY-FREE)
If you're on the hunt for more 'free from' Easter recipes – then stop right here. Buns with a difference and bursting with melted chocolate, this one is a winner.
19. Rich Mocha Easter Cake by Gluten Free Alchemist.
Chocolate lovers, rejoice! Made with plenty of the good stuff as well as a good dose of cocoa, this recipe gains depth from a sprinkle of fresh-brewed coffee.
20. Gluten Free Vegan Supersize Cream Egg by Glutarama (also DAIRY FREE, VEGAN)
Not a cake but hey it's one we've all been waiting for… a creme egg surprise that everyone can try. Not dissimilar from the real thing, you'll love tucking into them.
Pin It for later…