Good evening everybody- a few weeks' ago I published my 'What I Eat in A Day' blog post- it was one of my favourite blog posts to write and I always love reading them when other bloggers do them: I'm always on the hunt to mix things up and it can often feel boring to have sweet potato again. (I don't know what I'd do without them) However, when I was uploading it, I was thinking about it might be good to start introducing more vegetable based meals– rather than just adding them to fish and chicken like I'm currently doing. My relationship with meat is an interesting one: when we lived in China, I hardly ate any meat and felt great on it but since my return to the UK ,I have gradually upped my protein and now eat it at least once a day.
I honestly think good nutrition is about listening to your body- I I recently had an interesting debate on twitter about this (in response to someone who was claiming veganism could cure Crohn's- eye roll) and I really do think it's all about balance: some days I will absolutely be craving a steak and I will go for it (interestingly, I have no problems digesting it when I crave it; suggesting perhaps the body know when it needs something and when it doesn't) but on other days I'll just fancy some veggies. Today, I have teamed up with Goodlife; who challenged me to put vegetables in the centre of my meals and try some of their gluten free plant based products! The emphasis on healthy convenience: products can be cooked from frozen, are a natural veggie product (no fake meat!)and only take 15 minutes in the oven.So, perfect for me on evenings where I am short on time and just want to pop something in the oven.
Falafel wraps with beetroot fries and sauerkraut.
First up to try was Goodlife's falafel. I love falafel and was really impressed with how 'clean' the ingredients are in this one: Chickpea (71%), Onion (21%), Rapeseed Oil, Parsley, Salt, Cumin Powder, Coriander Powder, Lemon Juice, Black Pepper, Garlic Powder, Chilli Powder. This is great to see as many contain lots of unnecessary gluten free flour blends and fillers but these are simply chickpeas and lots of natural flavouring! I teamed this with some parsnip, sweet potato and beetroot fries (that I found at Tesco-very easy to do; just pop in the oven) and turmeric sauerkraut (yes, they've added it to sauerkraut now!) I'd love to say I invented that myself but I discovered a company called Barrel and Bone who do all sorts of weird and wonderful sauerkraut combos: this is probably my favourite one yet!
Veggie Burgers
I also tried their Parsnip and Sweet Carrot Nut burgers Again, I'll pop the ingredients here as they really impressed me: Carrot (14%), Onions, Brown Rice, Peanuts (10%), Cashew Nuts (10%), Picador Parsnip (8%), Brown rice flour, Spinach, Dried Potato, Rapeseed Oil, Water, Rice Starch, Yeast Extract, Sage, Salt, Garlic Purée, Black Pepper.
If you're conscious of getting enough proteins on a vegan diet, this should reassure you. Each burger contains 10% of your daily protein and it's great to see these coming from nuts and brown rice. Carrot and Parsnip are my fave veggies too as they're soluble fibre rich (more in this blog post) which are great for digestion and not too tough for the gut: so many veggie burgers are a no go for me as they contain lots of added grains, beans and lentils- which is not a great combo for anyone who doesn't have a cast iron gut. I also feel like these make a great meal by themselves- since they've got protein, good fats and fibre! So, I added some more of my veggie fries and served in a lettuce wrap.
I really enjoyed rustling up these creations and it certainly got me out of my meat and fish comfort zone. I'm definitely going to keep these on hand for busy periods and when I need something quick and tasty. If you can eat dairy, there's even more products that you might want to try: from beetroot and feta sausages to Mushroom and Spinach Kiev.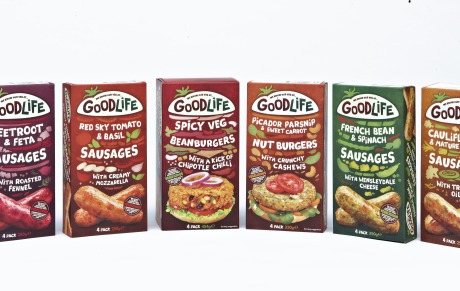 Thanks so much to Goodlife for giving me the chance to checkout these lovely products- I hope to produce even more gluten free, vegan recipes for the blog and would love to hear your take on it. Are you vegan? How do you find it impacts on your gut and health in general ?What are your go to foods for quick and tasty veggie meals?
Useful Reading
7 Ways to Get More Veggies Into Your Diet (Even on low Residue)
The Best Vegetables for Juicing
This is a collaborative post with Goodlife