Happy Sunday all! Today is a bit of an impromptu post-inspired by my latest Instagram stories (If you're not following me already on Instagram, come along and do so here for lots of gluten-free food and gut health updates!). I used to be really into 'money-saving' blogs and apps a while ago but found it difficult as lots of the coupons/freebies weren't healthy products- so I kind of stopped doing it.
However, I stumbled across some great gluten-free and dairy-free freebies yesterday and shared them on mmy Instagram stories! As so many of you loved it, I decided to turn it into a dedicated post! Eating gluten and dairy free is EXPENSIVE, so grab yourself some bargains! There is also an updated, second part to this series here.
Do let me know if you'd like me to update this on a weekly basis, I'd be happy to create a 'gluten-free bargains' section of the blog.
Edit: I have spent literally HOURS finding the deals for this post (I'm on my fourth cup of mint tea), so if it helps, please do take the time to share this!
Current Shopmium Offers
Shopmium is a great little app (you can download it in the Appstore for iPhone and Android) and it's really simple to use. To try and encourage you to try new things, it'll give you cash back on your purchases; making it either free or really cheap.
It's really simple to do, you simply take a quick picture of your receipt and scan it in- 48 hours later the money is in your PayPal account (and there are no minimum withdrawal levels, so you can take your money out straight away). I was sceptical at first but I use it all the time I promise!
What's even better is just as I was about to write this, I noticed there's only a bloody 'FREE FROM' tab on it now! So rather than scrolling and checking labels, all the gluten/dairy free offers are in one place. Well played Shopmimum, well played!
Here's what's currently on offer…
FREE LINDT CHOCOLATE BAR
If you sign up to the app with my referral code, you automatically get a bar of Lindt chocolate bar credited on to your account. This can be the regular version or if you're dairy-free like me, the dark version! Just purchase at participating retailers and scan your receipt for a full refund! You'll need to be a new member and enter the referral code AAAAGMME for that one (catchy!)
2. FREE BOL SALAD JAR (Waitrose and Tesco)
Buy any Bol salad jar (some are gluten-free but not all so but do check labels) from Tesco and Waitrose and get it completely free! This one is usually £3 and you can claim the full price of the item back! The one above is gluten-free (I've checked) but contains feta (so sheep and goat's milk). The Japanese version is vegan but does contain gluten.
3. 60% off NAKD Bars (all supermarkets)
Buy any nakd bar (or up to nine!) and claim a discount on them. If you buy 3 you'll get 60% refunded or if you just buy the one you'll get 40% off. You are literally being paid to eat Nakd bars.
4. 50% OFF GENIUS BREAD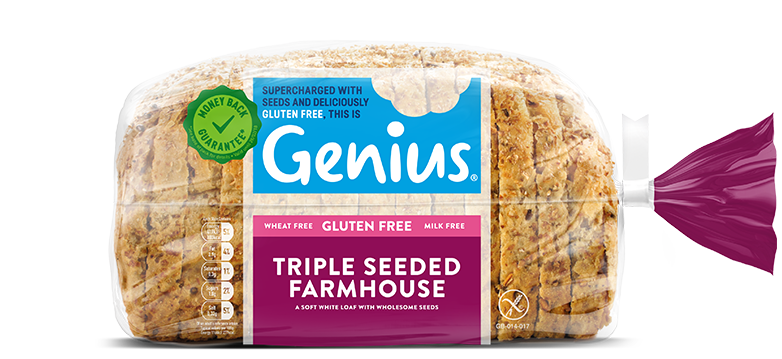 Buy any genius bread-including the toastie version, five seeded, white farmhouse, brown farmhouse or triple seeded farmhouse and get 50% of the price on your bill. I love Genius bread and have created a few recipes with it in the past, so this is a great deal for me!
ClickSnap
This is a very similar app to Shopmium but there aren't as many exciting deals at the moment. Again just search for 'ClickSnap' in the app store and scan in your receipts. However, there's still one or two worth sharing.
HALF-PRICE BOTANIC LAB dairy free Plant milk (Sainsbury's and Waitrose)
It's tricky to find dairy-free milk that's free from carrageenan and refined sugar, so this is a bargain!
ALMOST FREE KALLO ORGANIC STOCK POTS (Tesco, Morrisons, Asda and Sainsburys)
Depending on where you buy them, these are as cheap as £1.50- and ClickSnap is offering £1 cashback! If you haven't tried Kallo, you need to! Their stock pots are organic, gluten-free, dairy-free and often vegan.
FREE VOUCHERS
But it's not just about cashback apps, you can also get some bargains by grabbing free vouchers. Here are some current free vouchers to grab.
FREE £2 SCHAR VOUCHER Join Schar's gluten-free club (for free) and you'll get a completely free £2 voucher in the post.
FREE ALMOND BREEZE DRINK Download this voucher for a completely free Almond Breeze carton at Waitrose.
FREE ALPRO GO ON YOGHURT If you do your weekly online shop at Sainsbury's enter FREEALPGON to get a yoghurt added into your trolley for free!
FREE STARTER BOXES
Register with the Glutafin Club for your free starter box, full of gluten-free products! The good news is this isn't just for coeliacs; if you have IBS or gluten intolerance you can sign-up for this too (just ordered mine!)
Register with Juvela for a similar free starter pack. You must be diagnosed with coeliac diagnosis for this one!
CHEAP/DISCOUNTED PRODUCTS
6 packs of Mrs Crimble's cheese crackers for £2.39! Yes, SIX BOXES This is an Amazon add-on item, so you need to spend £20 first-but what a bargain! You can also get FIVE 1KG PACKS OF DOVE FLOUR for £7.98 (not as cheap but still good!)
£1.50 off 2 packs of Debbie&Andrew's Gluten Free Sausages. I've often seen this advertised as 2 for £3 so using this voucher gets you an additional £1.50 off! I love these sausages too!
5op of Floral Freedom vegan spread using this voucher
Right I've got to be honest, this took forever to write- but if it helps you all save some money and manage life with gluten-free it'll be worth it! Please do take a second to share or comment if this has helped
Give me a follow on Instagram or head over to my facebook page for lots of gluten-free foods! You can also read my other posts about free-from living, life with coeliac disease and intolerance here.