Can't get enough of all things pumpkin? Or ended up buying one too many for your Halloween party and got extra to spare? Well, you're in luck! Today I wanted to share 11 quick and easy gluten and dairy free pumpkin recipes to make this autumn. Whether you're in the mood for smoothies, soups, pumpkin pie, pasta or waffles! I've got you covered!
1.Turmeric Pumpkin Protein Smoothie.
This pumpkin smoothie tastes like Autumn in a cup! It's also packed with vegan protein and anti-inflammatory turmeric.
2.Tummy Friendly Pumpkin Soup
The perfect winter warmer. This 'creamy' soup is actually made with soya cream and plenty of chicken stock!
3. Vegan Pumpkin Pie
What's October without pumpkin pie? This beauty by blogger Glutarama is also vegan-making it great if you can't tolerate eggs too.
4.Pumpkin Waffles
You'll need to substitute the flour and oats for gluten-free equivalents but otherwise, the vegan pumpkin waffles are a brunch must!
5.Vegan Pumpkin Curry
Another recipe by Cook Veggielicious. This veggie curry uses pumpkin as its star ingredient! Great for meat-free Mondays!
6. Easy Pumpkin Pasta
Another great savoury option. This pumpkin pasta from Free From Farmhouse is a real show-stopper and perfect for a simple supper.
7. Pumpkin and Carrot Cake
Back to sweet recipes again now and this gorgeous seasonal twist on carrot cake by The Peachicks bakery.
8.Double Chocolate Pumpkin Brownies
There's only one thing better than double chocolate brownies: pumpkin double chocolate brownies. Another winner from Peachicks!
9. Pumpkin Risotto
Risotto is one of my favourite things to make in winter. This recipe uses A2 milk and goat's butter (which many people who avoid dairy can tolerate) but it's easy to switch to plant based alternatives if needed. I personally use unsweetened almond milk is savoury recipes as it is creamy but not sweet!
10.Roasted Pumpkin Hummus
I eat hummus pretty much every day-but how yummy does this pumpkin version sound? A great way to use up pumpkin seeds too!
11. Low FODMAP Pumpkin Pie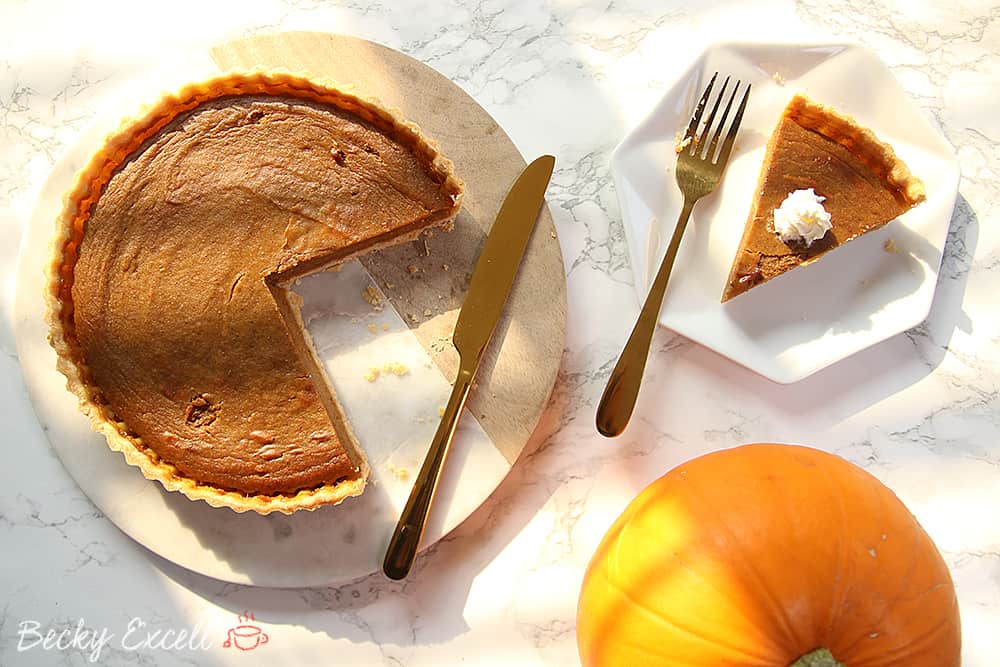 Finally, I thought I'd share a second pumpkin pie recipe for my readers who are also on the low-FODMAP diet. Becky from Gluten Free Cuppa Tea has the most amazing recipes-and this pumpkin pie is no exception!